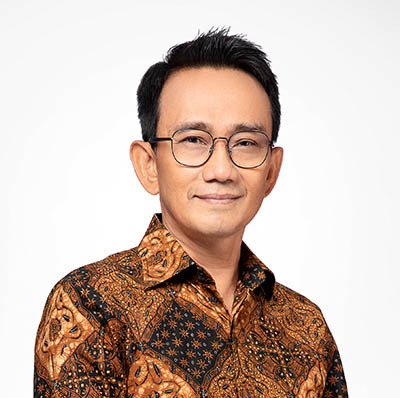 Hasnul Suhaimi
Independent Commissioner
---
Indonesian citizen, 65 years old, was appointed as Independent Commissioner during the Extraordinary General Meeting of Shareholders on 2 September 2022.
Currently he also serves as Chairman of the Nomination & Remuneration Committee and Chairman of the Sustainability Committee of PT Petrosea Tbk (2022 until now), Commissioner of PT Tripatra Engineering (2021 until now), President Commissioner of PT Eureka (2018 until now), Advisor at Pegadaian Corp University (2018 until now) as well a Lecturer in MMUI (2012 until now) and IPMI (2016 until now).
He has 33 years of experience at several major telecommunication companies in Indonesia. During his eight years as President of PT XL Axiata Tbk, he successfully transformed and established the company as the second-largest cellular operator in Indonesia. At his time in XL, he also created a new business unit (i.e., "digital services") to anticipate the digital business trend while also opening new growth opportunities in the future. Besides XL, his experiences in other Indonesia's major telecommunication companies were Commercial Director of Telkomsel (1998-2000), President Director of IM3 (2001-2002), and President Director of PT Indosat (2002-2006). He also served as and was appointed as President Commissioner of PT POS Indonesia (2018-June 2019) and Advisor at Bukalapak (2016-2020).
He earned his bachelor's degree in Electrical Engineering from Institut Teknologi Bandung (ITB) in 1981 and a Master of Business Administration from the University of Hawaii, the USA, in 1992. He also obtained a certification as a Professional Certified Coach (PCC) from the International Coaching Federation (ICF) in 2021.
He has no affiliated relations with other members of the Board of Directors, members of the Board of Commissioners, as well as the main and controlling shareholders, both directly or indirectly.