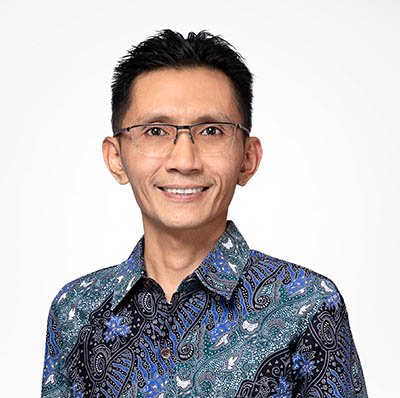 Romi Novan Indrawan
President Director
---
Indonesian citizen, 47 years old, was appointed as President Director during the Extraordinary General Meeting of Shareholders on 2 September 2022.
Currently he also holds positions in several Petrosea subsidiaries, namely as President Commissioner of PT Karya Bhumi Lestari, PT Rekakarsa Karya Nusantara, PT POSB Infrastructure Indonesia, PT Kinarya Bangun Sesama, PT Kuala Pelabuhan Indonesia and Commissioner of PT Mahaka Industri Perdana (2022 until now).
Previously he served as Director of PT Petrosea Tbk from 2018 until 2022, President Director of PT Petrosea Kalimantan and Director of PT Karya Bhumi Lestari from 2017 until 2018 as well as Commissioner of PT Pusat Sarana Baruna from 2018 until 2020. He also served in various positions at Petrosea until 2017, including Statutory Reporting Manager, Business Lines Accounting Manager, Treasury Manager and lastly held the position of Financial Controller, before serving as Independent Director from 2018 until 2019. He has more than 18 years of experience in the fields of Financial Management, Treasury, IFRS, Tax planning and Management at multinational companies such as PT Coca Cola Indonesia, Holland Ballast Thiess Joint Operation and Banpu – Nusantara Thai Mining Services.
He graduated with a degree in Business from the University of Pittsburgh, in Pittsburgh Pennsylvania, in 1997.
He has no affiliated relations with other members of the Board of Directors, members of the Board of Commissioners, as well as the main and controlling shareholders, both directly or indirectly.