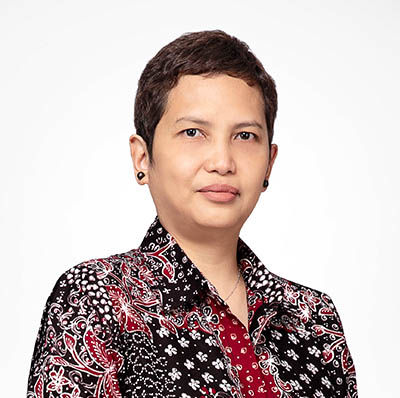 Desy Utami Lestari Pardanus
Member
---
Indonesian citizen, 48 years old, was appointed as a member of the Audit, Risk & Compliance Committee based on the Circular Resolution in Lieu of the Meeting of the Board of Commissioners of Petrosea in September 2022.
She also serves as Commissioner at PT Caraka Reksa Optima (2022 until now), General Manager Finance at PT Nusa Halmahera Minerals (2020 until now) and Director at PT Puncakbaru Jayatama (2013 until now).
Previously, she held several key positions at PT Nusa Halmahera Minerals, including Finance Manager (2011-2020), Accounting Superintendent (2007-2010), Senior Management Accounting (2002-2007), Payroll Supervisor (2000-2002) and Accounts Payable Supervisor (2000). She also served as Business Analyst at Newcrest Mining Ltd, Melbourne, Australia (2010-2011), Contract Payable Analyst at PT Fluor Daniel Indonesia, Batu Hijau, PT Newmont Nusa Tenggara (1997-2000) as well as Accounting Staff at Coca Cola Manado (1996-1997).
She earned her Bachelor's Degree in Accounting from the University of Klabat, Manado in 1996 and Master of Business Administration from the University of Hull, UK – Singapore Intake in 2008.