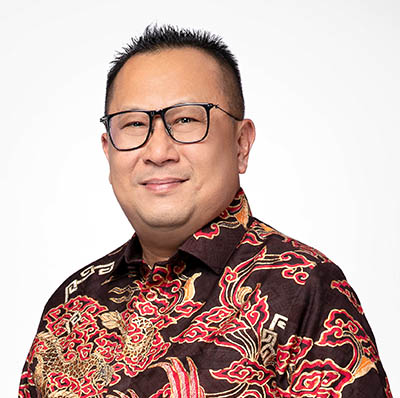 Ruddy Santoso
Chief Financial Officer
---
Indonesian citizen, 45 years old, was appointed as Director during the Extraordinary General Meeting of Shareholders on 2 September 2022.
Currently he also serves as Director of PT POSB Infrastructure Indonesia (2021 until now) and Commissioner of PT Karya Bhumi Lestari (2022 until now).
Previously he served in various positions at Petrosea, including Financial Controller (February 2018-September 2022), Corporate Planning Manager (August 2015-January 2018), COSMO (Corporate Strategy Management Office) (February 2015-August 2015), Asset Management Accounting Manager (February 2013-January 2015), Accounts Payable Manager (February 2011-January 2013), Accounting Manager – Mining (November 2009-January 2011), Senior Project Accountant (July 2008-Oktober 2009), Project Accountant (July 2007-June 2008) and System Implementation Officer (November 2006-June 2007), as well as Financial Controller at PT Mahaka Industri Perdana (2015-2016), Internal Audit Officer (2005-2006) and Management Trainee (February 2005-July 2005) at PT Sarana Titian Permata (a subsidiary of Kuok Group, Malaysia), Jakarta as well as Assistant to Sales & Operational Manager at Expert Computer International, Inc., Gardena, California, United States of America (February 2004-October 2004).
He earned his Bachelor of Accountancy from Tarumanagara University in 2001 and Master of Business Administration in Information Technology from Oklahoma City University, Oklahoma, United States of America in 2003.
He has no affiliated relations with other members of the Board of Directors, members of the Board of Commissioners, as well as the main and controlling shareholders, both directly or indirectly.